A Business Growth Success Story With Catering
Starting out making traditional Lebanese style finger foods and dishes for family and friends, Halimy had supported her young family with her delicious cooking for years. Using her love of cooking to fundraise for the local community and finding the requests for her delicious dishes growing day by day, it recently became apparent that Halimy and her kitchen needed to move to a more industrial space to meet the needs of the business and continue its growth.
With business growth on her mind Halimy looked forward to the opportunities available in the market and became aware of a gap that she and Catering at Its Finest could fill.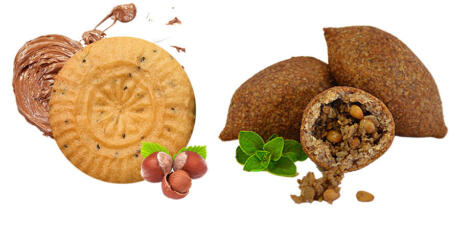 As a new start up business, Halimy reviewed her branding as it soon became clear the simple zip lock bag that was used in the past was not going to help get her and her business recognised as a professional business in the industry.
With a new vision for the business, packaging and new branding was essential, not only for ease of use within the business and to extend the shelf life of her products but to help get the products purchased and on the shelf of other retailers and into the homes of those who had previously supported her small business. For the first time Halimy needed a logo, nutritional labels and a place to start.
After chatting to RLP (Read Labels & Packaging) Halimy soon realized that her packaging did not need to be as big of an investment as she thought. Previously being advised that packaging minimums were up to 10,000 per SKU from other printers RLP's smaller minimums meant less of a risk to this small start up business and allowed Catering At Its Finest the opportunity to grow without potentially being stuck with huge amounts of packaging before testing the market.
We spoke to Halimy just a few short weeks after opening her industrial kitchen and new premises and to say she is one happy business owner would be playing it down! It was great to hear Catering at Its Finest opened its doors with great success and support from the local community.
Halimy had done some legwork before the business launch to give some stores a taste of her product, but when they saw the new packaging they placed orders to stock this delicious brand immediately, with five businesses jumping on board in the first few days, a great start!
RLP supplied a range of alternate sizes and SKU's to incorporate the varying products at Catering at Its Finest - Eleven SKU's in total with three different sized Three Side Seal bags (3SS). The material used for these bags is perfect for most food types having excellent moisture and gas barriers. Easily sealed for freshness they are ideal for the types of foods Halimy and her team are creating.
Attracting attention of her customers is the soft, almost opaque appearance of the packaging, with the 3SS bags being designed to allow for a small window on some products to be able to view the delicious treats inside, whilst still sealing in the freshness.
The soft feel material is indicative of the types of flexible packaging supplied for a lot of our flexible packaging solutions and is suited to freezing due to the three layers of material having high PE levels, allowing the 3SS bags to stay pliable when frozen, not becoming brittle.
By only having to place orders for minimum amounts of packaging the opportunity to change a few things is not out of the question for the start-up business now that the products have been tried and tested in the market and was one of the reasons the decision to use RL&P for her packaging was made. Halimy is looking to change some details in her artwork and make a small change to the size of her packaging to suit her individual business needs and get it 'just right' for her brand, none of which require an unnecessary, pricey outlay.
We were so glad to have chatted to Halimy to hear such a great success story and we were proud to be a part of the launch and look forward to seeing Catering at Its Finest back again soon.
Visit Catering At Its Finest for more information on this successful new business