Innovative food packaging trends - food industry.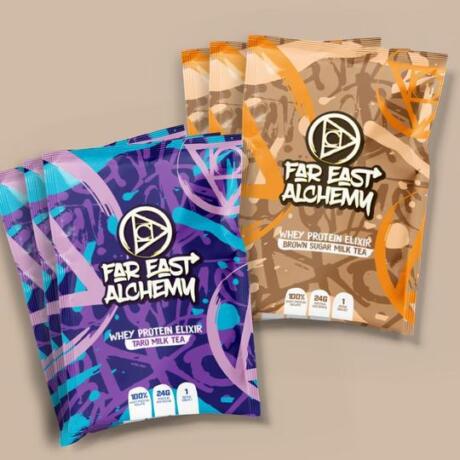 Flexible packaging including sachets, 3SS and stand up pouches can provide the convenience of a single serve - right up to bulk packaging for your product. Sachets and 3SS food packaging provide the convenience of a single serve, or sample size product in fully branded packaging, easy to open, consume and recycle the packaging when finished. Stand up pouches provide the ability for your end consumer to easily open your fully branded product, reseal and pop in the pantry or store with the product being kept fresh until the next use.
The functionality of flexible packaging is welcomed by consumers and plays a big part in getting your brand out there!
With sustainability, usability and recyclability being a big concern for most Australians, food and packaging innovation require careful consideration of how the Australian food industry looks at the packaging. Flexible packaging, made from recyclable soft plastics is a cost-effective option for many brands and is seen as a value-adding packaging solution for many products. It is able to be branded fully and created to look like almost any finish or look you can imagine, making it possible to hit the market meeting any food packaging trend that suits your target audience.
The layers of soft plastics that make up flexible packaging create a leak-proof barrier that not only protects your product from leakage but also provides a unique environment to keep your product fresher for longer. With the ability to add a one-way valve to essentially de-gas your product, stand up pouches and flexible food packaging can be a great option for products such as coffee and tea.
The ability of stand up pouches to stand alone on the shelf gives the product an almost boutique look.
Packaged Food Industry Trends And Branded Food Packaging.
Standing out amongst your competitors in any category is essential when attracting buyers for your product and flexible food packaging allows your brand to create looks that follow packaging trends by creating designs that make the most of the benefits of digital printing.
For start up brands having the opportunity to make the most of colour trends that are current within the market at the time of product development is a great benefit. Colour trends change more often than some looks we mention below, but done right, they can become the most recognisable element of your packaging design, and stay with you for years, performing for your product by making it instantly recognisable to loyal customers
We are currently seeing a mix of pastels and bright colours used in flexible packaging designs for new brands. These are often made a little unique with organic shapes or contrasting colours used throughout. As always there are brands that continue to see great success with more traditional looks, steering clear of trends as their business grows, so despite the trends, it will always come down to what is the right look for your brand.
Kraft paper packaging.
For many food industry categories - along with the recyclable, environmentally conscious trends comes the kraft look trend. A look that uses the colour and texture of a paper-based product within the design so that when printed, resembles actual paper (kraft) look packaging. This look along with many others requires a packaging designer to input the textured design throughout your flexible packaging design.
We are seeing this look more often for natural, plant based products, be it for humans or our furry friends, the kraft look can give a natural, environmentally friendly feel to flexible packaging.
Metallic embellishments on food packaging.


Almost any look can be created with digital print, meaning digitally printed flexible packaging is top of the list for many new start ups looking to hit the market with a new, on-trend product. For many premium products, metallic features and finishes are high on the list and a food packaging trend that we can not imagine ever diminishing. The amount of metallic embellishments change over the years from a small amount to large depending on the product type, but it's a trend that continues within the Australian food industry.
Food packaging with a clear window.
Clear windows are a popular trend for many food product categories. They can work well within the design of your flexible packaging to not only create recognisable packaging for your target audience but also give a sneak peek of your actual product.
We see many health-focused products using a clear window to show their food product and we also see those in the cosmetic industry using it for beauty products such as bath salts or healthy, infused teas. For an intriguing product type, a clear window can be a great selling point and again, added to your design by your packaging designer for digital print flexible packaging.
How does flexible packaging keep up with packaged food industry trends?
Digital print flexible packaging keeps up with the trends because you design it that way!
As with any embellishment or trending look in food packaging, for digitally printed flexible packaging it is what your packaging designer adds to your finished artwork that makes these finishes possible within your design. Almost anything can be achieved with digital print packaging.
The best thing about flexible packaging is just that, it stays flexible, it has smaller print minimums meaning your brand can change with the trends, make the most of a new product opportunity or launch a new product quickly and with less investment than you think.
The ability to also print multiple SKUs within the print run also allows for you to print up to four different designs at one time, meaning you can keep up with the Joneses on trends easily, quickly and without risk. Try a new look, a new product or a packaging design trend without running the risk of putting all your eggs in one basket.
Visit our blog now to find out how many of our clients have made the most of digital print to grow their businesses.