Packaging that doesn't require huge MOQs keeps small business on the radar.
With a background in the health food industry, Sarah (former employee of Carmens) bowed out of the industry she loved after finding that her priorities in life had changed; she wanted to spend more time with her little ones. For a person that can not sit still, she soon found that the itch to keep on movin' crept in and she began work on her own unique boutique blend of granola and muesli.
Two kids in hand and striving for that work life balance Ted & Mems was born (a namesake of the two little ones) and the gorgeously healthy breakfasts she had previously only been selling to friends and family made straight from her home kitchen got bigger in no time, with minimal effort spent on business growth as she concentrated mostly on the two most important things in life - family and balance.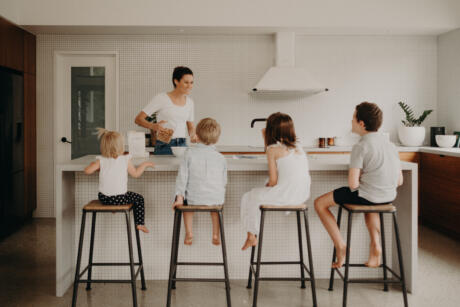 This unique business was born from love rather than the need or determination to build a multi-million dollar business, a small mum run business that just keeps Sarah busy enough to starve off that creative itch as well as the satisfaction of knowing the business is there, doing well and growing organically on its own; a sign of a great product.
As the business grew so did the family, now mum to four kids, Ted & Mem are now accompanied by Billy and Ollie-Rose and Sarah is happily watching her business tick along ready to put the foot down on business growth if and when she chooses down the track.
For now, we think Ted & Mems is one of the most perfect examples to show just how our flexible packaging can be for businesses. Used as part of the strategy of small business when it comes to product range and business growth, smaller minimums are allowing businesses to stay on the radar alongside the larger brands.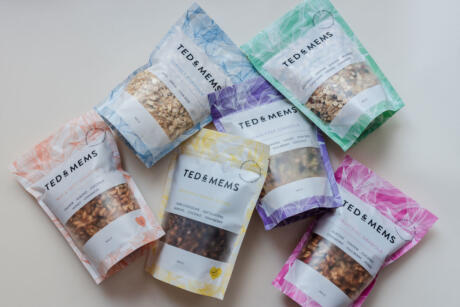 We have many small businesses taking advantage of our smaller print minimums and using the ability to print multiple SKUs within each print run, although we have never quite shared just how easy it can be to get products out there and looking great without huge investments in packaging.
At the moment Ted & Mems has six product SKU's that are packaged beautifully in flexible stand up pouches in designs that are eye-catching for both the little kids and the big ones! With organic shapes and simple colours used in the design along with a clear window the product itself is easily identifiable to customers on shelf, while being a little different from competitors, the simple branding is easily identifiable and a great way to get attention within the short time shoppers are in stores.
The easy to read label is a great example of how to use labelling to your advantage when designing your packaging, a quick glance at the product and you automatically know what treats are in store for you to snap up quickly for instant gratification.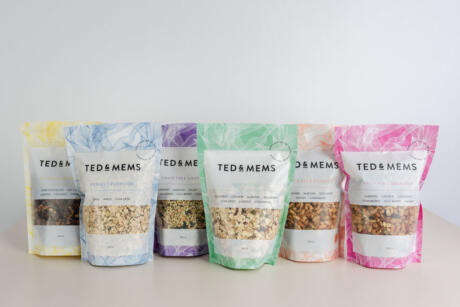 The ability to easily order and have smaller minimums of packaging printed as required is a huge advantage to any business to reduce the risk of unnecessary packaging being printed. Ted & Mems is smart about their packaging orders, ensuring they make use of the Multi SKU printing within their small minimum packaging runs. Not having to invest in 10,000 stand up pouches per product is a huge win for any small business.
We love to see our clients taking their business to the next level and Ted & Mems is going places at a pace that suits them and we are pleased to be part of it. Look out for this breakfast magic on the shelf of your local grocer or shop online directly with Sarah and the family.
Visit our product pages for more information on our Stand Up Pouches and small minimum flexible packaging.