A partnership between designer, client and supplier delivers new branding for a sweet, sweet start up.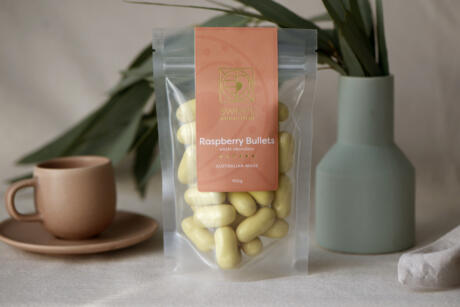 After working with Lady Startup, a business launch program to shift her mindset and get ready to upscale her business, Kelila took a leap toward what is now a business that has moved into a whole new world with a complete suite of new branding and packaging to help get her product noticed.
A creative mind herself, from the start Kelila knew she wanted to be across every detail of creating new branding for her business, improving on her packaging and brand presentation at the same time, so it was imperative to find the right partnership for her going forward. After a few false starts at partnering with a design team Kelila reached out to Nat and Bex at Griffin Grace and quickly realised these girls just 'got it'; exactly what gave Kelila the confidence to move forward with the new branding.
The beginning of new branding
From the beginning Kelila had the vision of creating a brand that would fit into the settings of the most beautiful interiors. Using inspiration from brands and accounts that WOW on Instagram and immersing herself in the inspirational social pages of some gorgeous homewares brands as well as the visions of the corporate clients she was already working with, Kelila aimed to create a brand that would look right at home in settings seen below. With the ambition to see her product in more retail stores in the future; with the new packaging, we don't think it will take long. This stunning new branding would be right at home in some of the most gorgeous homewares and boutique grocery stores with maximum shelf appeal!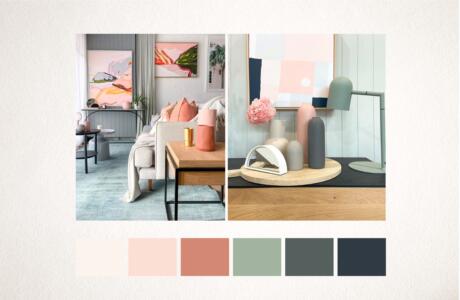 The Griffin Grace team quickly recognised that although Sweet Addiction was already in the market and going from strength to strength, they needed a brand and packaging evolution to better support their offer. Partnering with Sweet Addiction, the Griffin Grace team was not only creating a new logo for Kelila but a brand solution that included cost-effective packaging options as well.
A new logo was created for the Sweet Addiction brand that was inspired by the range of gorgeous confectionery flavours.
Unlocking the layers of the new Sweet Addition logo:
"Our products and gift boxes… – the square shape
…are made with love – the heart shape
…for lovers of chocolate – the circle
…our contemporary combinations – the diagonal line
…are perfect to share – the dividing line
…some adorned with freckles – the spots
…some bursting with fun centres – the shaded centre
…and ALL with layers of flavour – the layered lines" Sweet Addiction.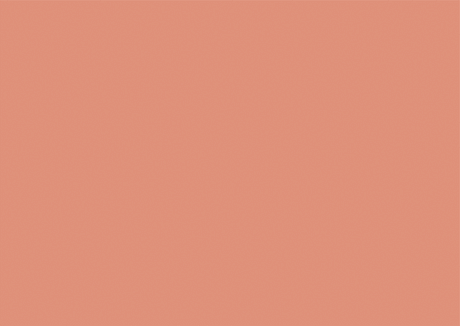 "A simple combination, done perfectly. We love our logo because it combines elements that relate to our products, simply done with the layering of crisp lines, shading and dots. It's just like our confectionery: simple combinations of elements create a perfect little indulgence. And that's why we are proud to emboss the Sweet Addiction logo on all of our products." Kelila - Sweet Addiction.
With every product being fully branded with the new suite of designs, that would mean a large range of SKU's were to be given the new look, so the process had to be not only simple for a small business to move forward but enable Kelila to develop her product range as her business grows without the need to revisit and reinvest in the design and packaging process. A cost saving that can make a big difference to expenses for small businesses.
"We supplied a layered template file that Kelila could roll out herself. This meant that she could save money on that component of the job. This was a departure from our usual process as we prefer to have quality control over the final output, but we were thorough with our templates to minimise any potential issues. And it helped that we knew she was working with a good printing partner!" Nat - Griffin Grace.
Having worked together many times previously, our friends at Griffin Grace were quick to recommend us to Kelila for her labelling needs, and so we began to work together throughout the process to ensure the end result was exactly what the small business was looking for.
New packaging on the horizon
Kelila was looking to find a printing partner that could supply her with the backup and support she needed to feel fully informed throughout the process of producing her labels so we were happy to have her visit us here at Read Labels and Packaging and take a tour of our manufacturing facility.
Chatting about materials, finishes and the label making process during the visit to RLP, Ross and Kelila did some product testing (the labels not the sweets!), also calculating the sizing of the label that would allow for printing across multiple SKUs using less material, labour and leaving the window open for flexibility when returning for smaller print runs. With a slight size change to what was originally in mind, the cost of the print run was significantly reduced; a welcome change to the rebrand budget for Sweet Addiction.
Between Ross here at RLP, Nat and Kelila the decision was made to concentrate on creating packaging and labels that would require only one common gold foil plate for her printing, saving cost and considering the ability to reuse and repurpose the plate for future print runs. This not only ensures the brand would be consistent across all customer-facing touchpoints but allows for cost cutting on the labelling investment.
The partnership between our three businesses really came to fruition when the layered templates provided by Griffin Grace were created to suit not only the specifications required by us to print a premium label each time, but also allowed for a batch of labels that could be finished off in-house by Kelila when required to meet the needs of her clients that love a personalised label. Working together to create the end result that looks outstanding was a team effort and goes to show what a solid partnership and support from suppliers can do for a small business.
"We really enjoy working with small businesses and start-ups to help business owners get to know the labelling and printing process, how it all works and how working closely with a great designer and printer can really help find the best cost-effective solution to their packaging and labelling needs. Understanding finishes, materials and what is achievable really helps business owners make value-adding decisions in regard to their packaging that can help cut cost and deliver a great result" Ross - Read Labels & Packaging.
The finished product
Speaking with Kelila from Sweet Addiction and watching the rebrand as it is launched online and across her ecommerce platforms it is clear we have one happy client and a fabulous result!
The journey for Kelila as she worked toward her rebrand was one that was built on a relationship and creative trust. Once partnered with Griffin Grace and referred to us here at RLP, we worked together to build a total brand packaging solution for Sweet Addiction. The result is labels that are perfectly aligned for her target market, look great, feel great and very importantly for Kelila and lovers of Sweet Addiction...tear easily and beautifully to give you easy access to that deliciousness!
The total rebrand from Griffin Grace consisted of a completely new, fresh logo, label design and template for the gorgeous gold foil used in the logo print. They also produced a design for the gift boxes that Kelila frequently uses for her premium sweets.
When we spoke to Kelila at the completion of her labelling project she could not have had anything nicer to say about the Griffin Grace team and our team here at RLP, the way we all worked together to understand both the brand vision and be transparent throughout the process along the way was so satisfying for Kelila. Being able to chat to her new found suppliers and ensure she was making informed decisions along the way really helped create a winning partnership that has seen Sweet Addiction get great results and value adding solutions for her branded packaging.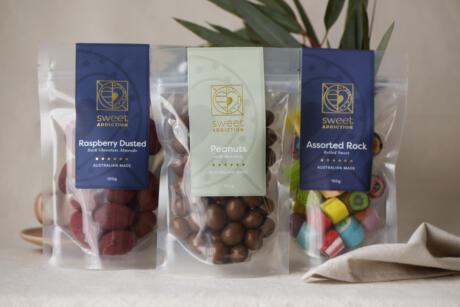 Sweet Addiction is now live with their new brand packaging and its little wonder the products are looking amazing. We look forward to seeing more Sweet Addiction in retail outlets soon.
Visit Sweet Addiction to get your fix of delicious treats HERE
Griffin Grace are one skilled bunch and we work with regularly, if you require packaging design or a design partner for your business get in touch with the team HERE and mention this article. We like to refer our clients to quality partners and show them some love!
Watch how the Sweet Addiction labels were created in our blog post on how labels are made HERE and contact us about your label requirements now.