THE IMPORTANCE OF GOOD DESIGN - FOOD PACKAGING
When it comes to the design of your food and beverage product packaging, we know the importance of good design and what can help you get your product picked up off the shelf.
After working with some of the biggest and up and coming brands in Australian food manufacturing, we spoke to Consumer Goods Product Packaging Designer Sam, from SJW Creative Design (now Proud As Punch Studio) about what he considers when designing packaging for the food and beverage market.
Sam has been the brains behind some of the packaging we see running hot on our presses regularly, including Keto Eats Australia so we thought it fitting to get his thoughts on the importance of good packaging design, as these ones really do attract attention on the shelf! Read more on the Keto Eats designs HERE.
Design considerations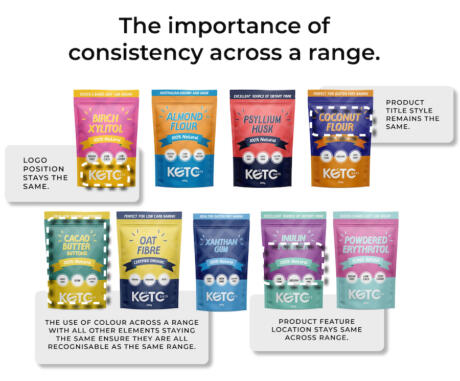 Cus­tomers spend only a mat­ter of sec­onds choos­ing prod­ucts off the shelf, so you real­ly have to grab their atten­tion while you have it
If you have already worked hard for that brand recognition, it is important to take advantage of that and get the attention of repeat customers easily. It can be very important to ensure the product is easily recognisable as part of a range when designing packaging for a product that is part of an established range. Taking into consideration elements, colours and packaging types that are already part of the range are important when designing within the scope of an already established design.
Without elements that run cohesively throughout the range, a product can risk looking like a stand-alone product and lose the benefits of brand recognition.
For a completely new brand or product, you may be able to have a little more fun with it and start from scratch when it comes to design.
Before putting 'pen to paper' a great packaging designer will get to know the product that is being packaged, research the type of packaging it will be going into and consider how that will translate when printed.
Considering the effect that packaging and printing may have on the design and how your brand can take advantage of those effects when designing can help make that design really 'pop'. Getting to know the type of packaging or labelling your product requires can open your designs up to special effects, embellishments and special details your competitor may be missing. A competitive edge with very little outlay is something we can all appreciate!
Target market & price range
Considering the target market is a huge factor when it comes to putting together concepts for new packaging. Who are we aiming this product towards?
Price range needs to be considered before designing packaging, the design can often be dependent on the expectations of the customer purchasing in that price range. What are they looking for?
The type of packaging and detail can also sometimes give allowance for some extra embellishments or allowances when it comes to the type of packaging that will be used and can help create a different look and feel. A good designer will always take into consideration what allowances can be made within your price range to really help make a difference when it comes to getting your product noticed on shelf.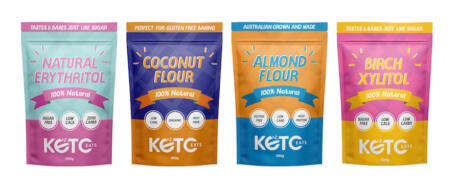 Type of packaging
When it comes to the type of packaging that suits your product best, knowing the price range and target market that your brand is aiming for will enable you to make the most economical choices when finding the best flexible packaging to suit your needs.
Not having a clear idea of what you need for your product when you are starting out should not be something that slows you down when it comes to getting your product into the market. Speaking to the experts can give you a good idea of what will work best for your product and budget and get you on the way to your product on shelf quicker!
Design elements
"While it is not exactly 'anything goes' when considering design 'rules;' for packaging there are so many more options than there were years ago, more fun colours, more unique designs and a bigger chance to really create something special when it comes to your brand" Sam.
There really are no rules when it comes to what colours you can and cant use for your food and beverage packaging as long as you are representing your brand in the best possible way, using elements that are designed specifically to attract attention from your potential consumers within those very few seconds you have their attention.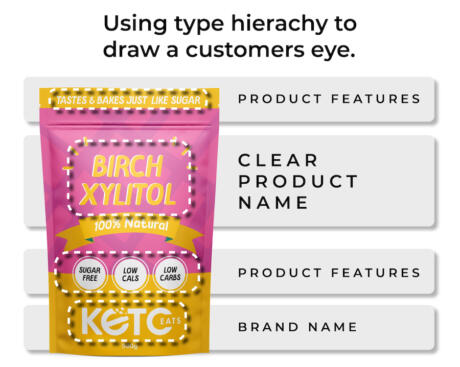 When designing product packaging, it is important to consider the information that a potential buyer will need to see in order to make that purchasing decision. Ease of recognition of both the brand and what type of product it is quickly and easily can be impacted by the typefaces used in your design, and the importance placed on some of the information.
The hierarchy of the typefaces used in your design can greatly affect the impact the design has on your consumer in those very few seconds you have their attention. What information do they need to consume first, in order to make that very important purchasing decision quickly? Make it identifiable!
Think social
"In today's current environment, more and more consumers are purchasing online, with social media playing a huge part in the purchasing decisions of younger audiences. Creating packaging that can translate into social media posts with packaging being easy to read and recognise quickly can impact sales online, as well as brand recognition on shelf".
A distinct design can be the difference between your product flying off the shelf, or being left behind alongside your competitors, creating packaging design that has a clear and simple message is a big factor in giving your product the best chance of success.
It is time to think creatively when it comes to your packaging.
With flexible packaging options, minimum quantities and multiple SKU printing available, we are passionate about getting start ups and new products into the market with minimal fuss. Speak to the experts about your packaging needs, and let's get your brand noticed!
Thanks to Sam @proudaspunchstudio for his expert advice on the importance of good design. Visit his website HERE
Read more about the Keto Eats Australia eye catching designs by Proud As Punch Studio HERE.